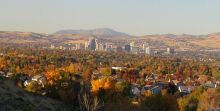 Nevada implemented new COVID-19 restrictions on November 22 in what was described as a three-week pause in order to allow officials to better deal with the impact of the pandemic. Since then, the new regulations have been extended until January 15, 2021. Under the current protocols, private gatherings are restricted to a total of 10 people from a maximum of two different households. Public gatherings are limited to 50 people, and masks are required when out in public. Photo at left: Wikimedia Commons, Ken Lund.
Restaurants
Except for fast-food eateries, reservations are required in order to eat at restaurants (and the definition of restaurant is expanded to include bars that serve food). The number of people allowed at a restaurant is capped at 25% of the facility's maximum capacity, and no more than four people are allowed at a table.
Shops
Retail shops are allowed to be open for in-store shopping, but the number of people allowed inside the stores is drastically reduced, in most cases to 50% of the maximum capacity of the facility. Social distancing and caution while shopping are still the guidelines by which to operate, along with 6-foot distancing, and face covers are required for everyone including employees and customers. Photo at left: Pixabay.
Things To Do
Many activities are still allowed to be open for business, as long as they operate at a maximum of 25% of capacity. This includes gyms and fitness centers, bowling alleys, museums, zoos, dance studios, libraries and art galleries as well as personal services such as massage parlors, hair and nail salons and tattoo parlors. The 25% restriction applies whether the venue is indoors or outdoors, and the public mask requirement applies at all times, except for when a person is in the act of drinking or eating; if an activity can't be performed while wearing a mask, that activity is prohibited. Adult and youth sporting events are on pause.
Casinos
The restrictions imposed on gaming establishments by the extended safety protocols mandate that the number of people be limited to no more than 25% of the maximum capacity of the business, with strict limits on how many people can be playing at any given card table or table game and social-distancing practices such as keeping every other slot or video game vacant. Surfaces of the machines and common areas are sanitized on a rigorous schedule as are the dice, chips and other tools of the trade. Hand-sanitizing stations abound, and everyone is required to wear a mask. Some gaming establishments have temperature screening for all guests and employees. 
Cannabis
Similar to the restrictions currently in place for the retail stores, cannabis dispensaries are limited to a maximum number of people at 50% of capacity.
Lodging
The greater Sacramento region of California, which includes the California portion of Tahoe, is currently under a Stay-At-Home mandate for non-essential travel. In Nevada, however, hotels and motels are allowed to provide lodging for leisure travel, as long as all of the health and safety protocols are observed.