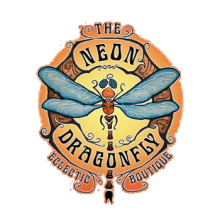 Welcome to Reno's most eclectic boutique located in the heart of ever growing Midtown, Reno. 
Keep Reno Real
Shopping local is not a trend. It's a way of life. The Neon Dragonfly's midtown Reno location means access to a passionate, unique and growing community who live, work and play here in Reno.
Locally-made gifts, decor and accessories color our store from elegant jewelry to eclectic art. Stand out in beautiful clothing and extravagant accessories. Find the perfect gift for any occasion.
And treat yourself to something truly special.
A Bit of Reno History
The Neon Dragonfly is located where the Reno Ballet Arts Academy once stood. Ballet bars still line the walls, and former dancers stop by to shop and reminisce. Come and take part in this bit of Reno history.