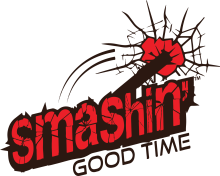 Rage Room in Reno, NV
Welcome to Smashin' Good Time, where catharsis meets excitement! Enter a world where your stress and frustration is shattered into a million pieces... literally! In this unique and exhilarating experience, you'll step into one of our two rage rooms that have been designed and armed with the intention to be smashed. You will be provided with all necessary safety equipment, tools of entertainment, and tools of destruction so that you can get to work! Whether you're looking for a fun group activity, a thrilling way to blow off steam, or simply a break from the monotony of everyday life, Smashin' Good Time offers a safe and controlled environment to let loose. Our rage room in Reno is a truly liberating experience that will leave you feeling refreshed and ready to conquer whatever comes your way.
For the not-so-furious, we also offer axe throwing and knife throwing and we welcome all skill levels to try it out recreationally, or join one of our leagues if you're interested! Whether you're a beginner or a seasoned thrower, our leagues offer the perfect platform to showcase your skills, meet people with similar interests, and have a guaranteed good time.
Full Bar, Billiards and Good Food
If smashing objects and throwing sharp tools doesn't suit your fancy, we invite you to come hang out by the bar and play pool at our recently re-felted billiards table. There is truly something for everyone here!
Once you're done unleashing all fury, be sure to grab a drink from our full bar, or satisfy your inevitable hunger with something to eat from our menu. Our bar features more than 70 beers, including a wide selection of imported & domestic beers, IPAs, Lagers, Ales, Stouts and Wheats, as well as non-alcoholic beers and beverages. We also have an impressive selection of whiskeys and bourbons.
Smashin' Good Time is the perfect place for a date night, a group/work event, bachelor party, or even just a place to come hang out and leave your worries behind. Don't let the stress build up any longer - visit Smashin' Good Time and shatter your worries today!